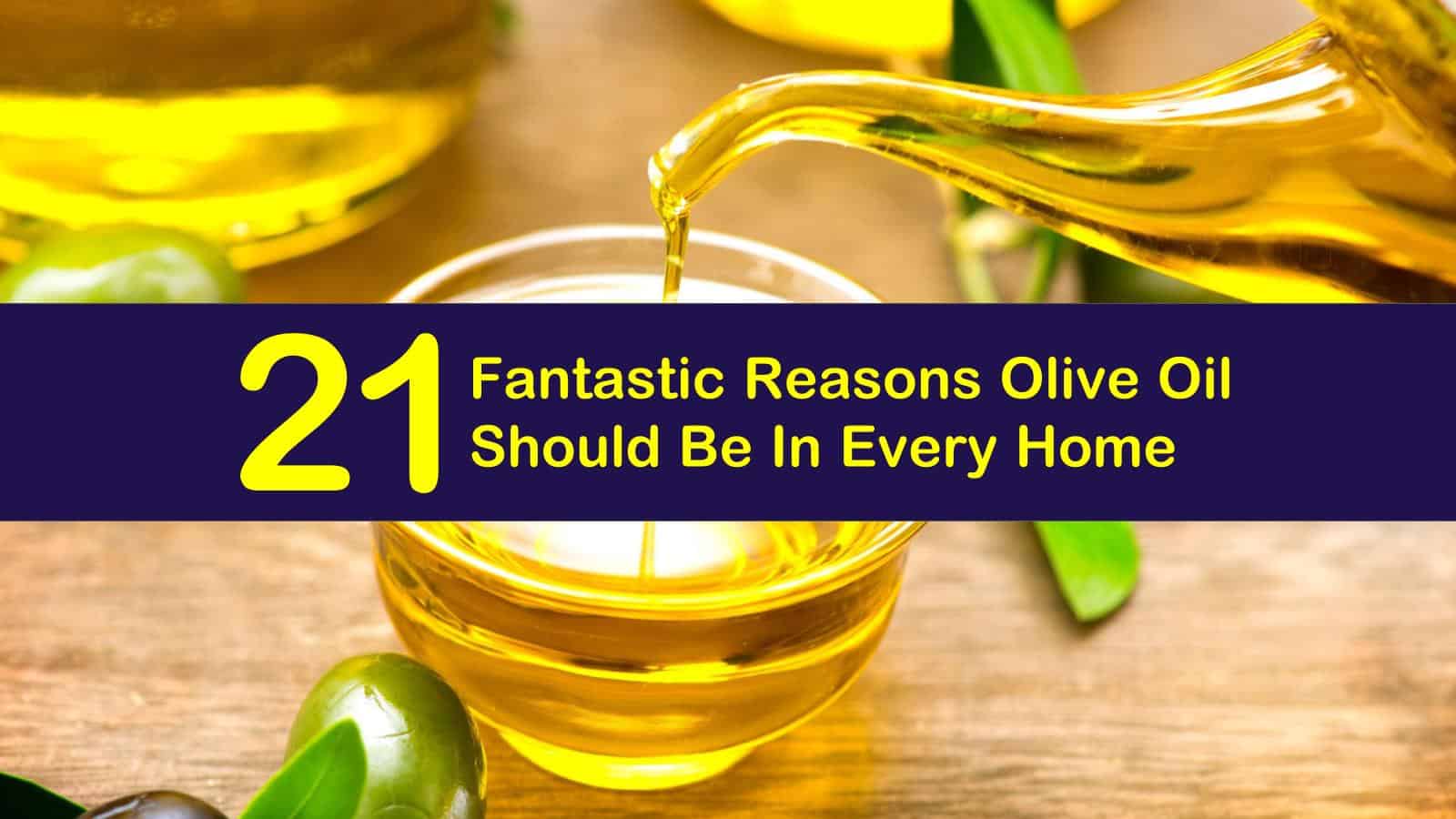 (subbotina/123rf.com)


Everyone should have a fresh bottle of olive oil on hand at all times. This oil works for everything from cleaning to promoting better health. Learning more about the uses of this oil will ensure you keep it stocked in your pantry at all times.
1. Treating a Sunburn
Sunburns sting and cause pain, but you can soothe a sunburn that is mild with a little olive oil. Chill it in the refrigerator, so it goes on cold. This will hydrate the skin while soothing the burn.
2. Hydrate Dry Lips
Dry, cracked lips are unsightly, and they are uncomfortable. The last thing you want is for your lips to burn and bleed. Apply olive oil a few times per day to keep your lips hydrated and kissable.
3. Cuticle Oil
Dry cuticles look bad, and it burns when you are applying nail polish or using a nail polish remover. Regular hand lotions may not keep your cuticles in good shape, but the daily application of olive oil will ensure they do not crack and that they maintain moisture.


4. Paint Remover
When you get hair dye or paint on your skin, it is not easy to remove. Take a little olive oil, massage it into the paint and rub it away. This removes paint with very little effort.
5. Cradle Cap
Cradle cap can be uncomfortable for babies, but olive oil can help to soothe it. Take a warm washcloth and a little olive oil and use these to both gently exfoliate and moisturize your baby's head.
6. Sugar Facial Scrub
Exfoliating your skin regularly is important to remove dead skin cells and promote a bright, even complexion. Make a scrub by missing sugar and olive oil together and then gently scrub your face about once per week.
7. Essential Oils Carrier
You cannot apply the majority of essential oils to the skin without a carrier or else you can experience skin irritation. This oil works well as a carrier, and it does not interfere with the scent of the essential oil.
8. Cleansing Oil
Oil cleansing has become quite popular in recent years. This is not a good ideal for those with oily skin, but the normal and dry skin will benefit greatly. Use equal parts castor oil and olive oil for this.
9. Hot Oil Treatment
Hydrated hair that is free of damage is not easy to achieve, but olive oil can help. You can use this as a hot oil treatment. Warm the olive oil, apply it to your hair, wrap your hair in a damp towel, sit for 30 minutes and then rinse well.
10. Butter Substitute
Substitute butter in your recipes with olive oil to reduce calories and make your meals for heart-healthy. You will use slightly less than the butter the recipe calls for.
11. Remove Eye Makeup
A great eye makeup remover is hard to find, and they can be pricey. You can take off your makeup with a little olive oil and a cotton ball. This moisturizes the delicate skin around the eyes, and it powers through waterproof products.
12. Prevent Gnats and Mosquito Breeding
Breeding mosquitoes mean a higher chance of you and your family getting bit up. If you have a rain barrel, add a little olive oil to the top. This prevents mosquito and gnats larvae from getting into the water.
13. Goo Gone Alternative
Goo Gone is a great product, but sometimes it is hard to find. If you have a sticker or leftover adhesive that will not come off, saturate it in olive oil, let it sit for a few minutes and then peel it right off.
14. Kill Head Lice
Head lice are a big problem, and they are so hard to get rid of. Skip the powerful chemical shampoos and use olive oil to kill the pests. Apply olive oil all over the hair, wrap it in a towel or shower cap, depending on length, let this sit for 30 minutes, comb the hair and rinse it out.
15. Ease an Earache
A bad earache puts a damper on your day, but a little olive oil can soothe it. Warm some olive oil and use an eyedropper to put a drop in the aching ear for instant relief. Make sure the oil is only warm and never hot enough to burn yourself.
16. Measuring Cup Aid
When things stick in your measuring cups, this can lead to the wrong amount of ingredients going into your food. You can coat the inside of your cups with a little bit of olive oil to prevent ingredients from sticking. This also makes it easier to wash when you are done.
17. Polish Shoes
Shiny shoes make you look professional and put together, but few people have fresh shoe polish on hand. Take a soft microfiber cloth and use it to polish your shoes with olive oil. This will remove all of the dirt and leave your shoes with a mirror shine.
18. Cutting Board Conditioner
Keeping your cutting board in good shape ensures that it lasts as long as possible. You can extend the life of your board by conditioning it with about a teaspoon of olive oil two to four times per month.
19. Shaving Cream Alternative
There are times where you run out of shaving cream, but this oil will help you shave without nicks and cuts. In fact, it will significantly moisturize your skin as you shave and you can use it regularly.
20. Hairball Remedy
If your cat has a hairball, there is no need to buy expensive remedies from the pet store. Take one-fourth teaspoon of this oil and add it to your cat's daily food to help them pass hairballs.
21. Remove Gum from Hair
Getting gum out of hair is no easy task, but olive oil does lessen the difficulty. Take some olive oil and gently massage it into the gummy area, let it sit for five minutes and then slide the gum out of the hair.
Olive oil is incredibly diverse, and it helps with just about everything in your home. Just make sure to use the right amount for best results.